Main | Ordering & Pricing | Armor | Bracelets & Anklets | Headpieces | Accessories | Sizes of rings




I make many different items out of chainmail, from armor to jewelry and other accessories such as belts, skirt and pant accents, headpieces, necklaces, bracelets and anklets. Some pieces have crystals or bells on them, almost all my work is custom to order, just let me know what you want.
I currently work in stainless steel (I hate polishing/sanding/smellingrusty metal and don't have a squire to polish it for me). I use bronze mostly for accent pieces and jewelry, althoughI can make armor and clothing pieces out of it. It does look nice and is a change from silver metals, but it can't take as much of a beating as stainless. I do most of my jewelry and accessory work in 3/8' rings with a thickness of 1/16. Armor is done in 1/2' rings with a thickness of 1/16.
As an estimate of cost, the metal (for stainless) isabout $8-10 per pound, an average full maile shirt weights between 12-30lbs (material costs then between $90-$250). It takes me approx. 80-100hours to make a shirt (this works out to less than $6.00 an hour!) So ifyou think it's expensive, just remember this is all hand done, there isno machine that makes it. (note: shark suits and most butchers gloves are woven wire, not traditional pattern made chainmail)

Select this link to see a square of maile in 1/2' rings.
---
Pictures & Pricing:
Picture Links


Prices start at:


$18
$30
$25
$30
$30
$50
$40
$40
$175
$175
$600

Custom pieces

Ways to show me what you want:

Send a jpg or gif in email
Send me a regular picture of the item you want reproduced
Cut out a magazine clipping and send it to me
Give me a web page url that has a picture you like
Telephone me (517-851-9266) I will give you a quote and discuss details on how to do your order.
If you are interested in purchasing or custom ordering see the pricing and order information page.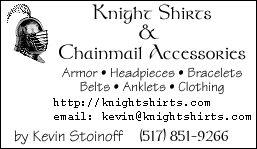 kevin@knightshirts.com
---
---
KnightShirts and Chainmail Accessories | copyright 2000 | (517) 851-9266 | www.knightshirts.com

(KnightShirts is a division of Moonrunner Gems)